The 2021 Subaru Love Promise Customer Commitment Award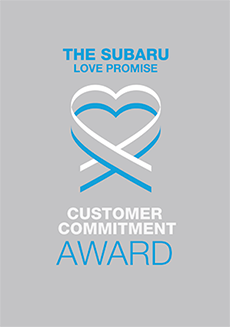 We've been nationally recognized for our dedication to our customers and the Subaru Love Promise.
We're honored to receive the 2021 Subaru Love Promise Customer Commitment Award. This award nationally recognizes Subaru retailers who demonstrate excellence in all areas of customer-focused performance. It highlights exceptional customer service that builds lifelong relationships with Subaru owners.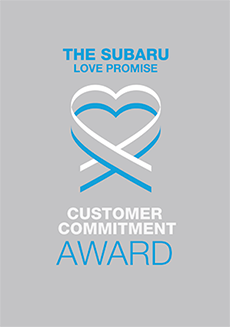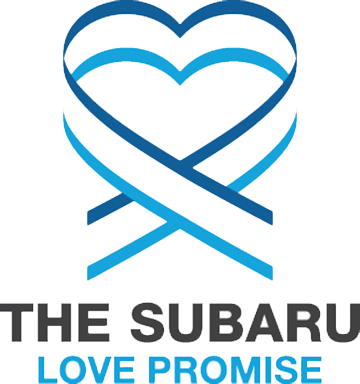 What is the Subaru Love Promise?
Subaru and our retailers believe in making the world a better place and the Subaru Love Promise is our vision of respecting all people. This is our commitment to show love and respect to our customers and to work to make a positive impact in the world.
How is Sport Subaru South dedicated locally to the Love Promise?
Our Love Promise can be seen in various partnerships with local charities and non-profits. We're grateful for the opportunity, not only to be a part of our community, but to serve it as well.
Florida Little Dog Rescue, Lovey Loaves, Pet Rescue by Judy
Voices of Osceola's Children
One Heart for Woman & Children, Pine Castle Little Leagure
Harbor House, N.O.W Matters More Foundation
Love Promise Stories from Sport Subaru South
Subaru and Sport Subaru South believe in making a positive impact on the communities in which we live and work. We uphold that belief through our Love Promise Community Commitment. Every month, we select inspiring stories from customers and partners from around our area who strive to support our collective commitment and feature them here
COVID-19 Relief - Erika S
Like many of our neighbors in Central Florida, Carlos never thought he would have to ask for help with things like food for his family. But without guests filling hotel beds, thousands of hospitality workers like Carlos experienced furlough and job losses during the COVID-19 pandemic. His main concern was ensuring his two school-age daughters had the food they needed to keep learning and growing. Thanks to the generosity of individuals, organizations and businesses like Suburu, Carlos was able to pick up a COVID-19 emergency relief box from a Second Harvest Food Bank of Central Florida mobile food distribution. Inside the box were nonperishable foods like peanut butter, soup, canned vegetables, beans and pasta. This gave him an immediate relief knowing there would be food on the shelves for his daughters. Second Harvest also connected Carlos with an emergency food pantry in his neighborhood. By working with a network of 550 feeding partners across six Central Florida counties, furloughed workers, families facing tough financial decisions and seniors on fixed incomes can access the nutritious foods they need close to home. The economic impact on our community has been tremendous and a heightened level of need will persist for months to come. Thanks to you, our neighbors like Carlos are feeling a sense of relief with each meal.
---
Special Dogs for Special People - MaryBeth R
Sport Subaru South has been critical to our success for the second year in a row. Thanks to their partnership, Poodle and Pooch Rescue (PPR) was able to receive a $5,000 grant from the ASPCA for a joint "virtual' adoption event ("2020's Special Dogs for Special People") with the Don Mealey Sport Subaru South dealership. We took in 15 additional special needs dogs for the event - we have a program called "Aren't You Special", designed to specifically promote the adoption of special needs dogs. During the virtual adoption event, which was held via Facebook Live, we featured educational spots about Subaru and the ASPCA, featured our volunteers and educated on the mission of PPR and showcased the dogs up for adoption. We had over 80 people attend the event live and 1,900+ views in total in the week following the event. We adopted out 9 dogs within the week following the virtual adoption event and 31 dogs that entire month. A big thank you to Sport Subaru South for supporting us and our mission! PPR is a 501c3 non-profit organization formed in 2008 that rescues dogs - primarily senior & special medical needs dogs in shelters. Our mission is to save as many "leftover" dogs as possible - the dogs that have been passed over by adopters and other rescue groups. With no paid employees and no facility, we manage and operate PPR with a network of volunteers and all of our dogs live with foster families. We formed PPR to save the dogs that no one was fighting over or fighting for, dogs who were out of time with no one willing to step forward to save them.
---
Share the Love - Trinity P
I'm the president of a foundation that was a recipient of the recent "share the love" event as well as many other acts of generosity from this specific business. They have collectively been such a huge local support of the work we do for our community. Be it writing checks, spreading the word, attending events or even recommending people needing our help Sports Subaru South has been such a valued part of everything we do and the people we help. Could not do what we do without organizations such as this. Thank you.
---
No Pets Left Behind! - Save the Leftovers - Mary Beth R
Sport Subaru South reached out to us with the opportunity for us to receive a $5000 grant from the ASPCA. This is going to impact our organization and enable us to save the lives of so many animals. Together we hosted an event to raise awareness for our cause and start a long partnership with them. A big thanks to Sport Subaru South and the Mealey Family for supporting us and our organization! Poodle and Pooch Rescue is a 501(c)3 non profit organization that saves dogs that truly need help. We rescue the "leftovers" from animal control, the dogs nobody wants because they're older or suffer from neglect, abuse or have a medical need. Their "last" day becomes the first day of their new life. We provide the veterinary care they need, a foster family they love and when they're ready, we adopt them to a family who cherishes them. We do not have a physical shelter because every dog lives with one of our foster families. We are all volunteers so your tax-deductible donation goes directly to help the dogs. We have saved over 4000 dogs since 2008.
---
Sharing the Love - david r
A few weeks ago, a co-worker was involved in an accident in her Subaru Tribeca. Fortunately, she was not injured...unfortunately, the Tribeca was totaled. Knowing I drive a Subaru Forester, she came to me for a recommendation on a dealership or Salesman. I referred her to Alex Tamer at Orlando's Sport Subaru. This is where it gets interesting. I had no idea this referral would come back to me in the form of a check from Sport Subaru...what a surprise. I have always tried to treat any sudden appearance of unexpected cash as a "pay it forward" opportunity. In this case, I had been following: https://www.instagram.com/namib_naude/?hl=en and knew immediately that this referral check would go to Naude. Naude is doing amazing work in the far western shore of Namibia, South Africa...helping seals and other sealife that have become trapped in fishing gear or other seaborne trash. He started off capturing seal pups that had become trapped in fishing gear and other trash. Due to the size of the adults, he was not able to help many of them. That was until he started getting donations like the one I sent him...ultimately from Subaru! The donations allowed him to have special nets made. Nets that could immobilize an adult seal, while still allowing him access to the animal so he could cut the fishing line, shipping straps, or other packaging they have become entangled in. This is dangerous work!!! It is really amazing what Naude is doing...and that Subaru is helping him!
---
Navigators Love Learning - Amanda E
Nothing sparks a child's imagination like a brand new book in their hands. Endeavor Elementary is grateful to Subaru's Love Learning Project and the American Association for the Advancement of Science for their generous donation of grade level STEM (Science, Technology, Engineering and Math) books. The books will be added to our non-fiction shelves the media center and will be available for check out to all of our 780 students Each one a beneficiary of your charitable gift. Endeavor's goal is to create a unique learning environment where children love learning. Partners in education such as Subaru are helping us make it happen. Thank you again for selecting Endeavor Elementary, where Navigators are Charting a Course to Excellence.
---
Sport Subaru South Blanket Delivery - Megan R
Many thanks to everyone at Sport Subaru South and Nemours Children's Hospital, not only for a memorable day, but for supporting LLS's mission to cure blood cancers and improve the quality of life of patients and their families. On June 26th, 2019, the North and Central Florida Chapter of The Leukemia & Lymphoma Society and Sport Subaru South had the pleasure of delivering blankets to patients at Nemours Children's Hospital, as part of the Subaru Loves To Care program. These comforting gifts were accompanied by personalized messages of hope written by the customers and staff of Sport Subaru South. This incredible act of generosity was warmly received by the Nemours Children's Hospital staff who were thrilled to help distribute these comforting gifts to their patients. LLS is proud to partner with Subaru to spread hope, love and warmth to those fighting cancer, across the country and right here in the North and Central Florida community. Many thanks to everyone at Sport Subaru and Nemours not only for a memorable day, but for supporting LLS's mission to cure blood cancers and improve the quality of life of patients and their families.
---
Pet Rescue by Judy Gets a New Van - Judy S
Thank you Sport Subaru South for supporting Pet Rescue by Judy animal shelter of Sanford, Florida during the 2018 Share the Love Event with a $13,934 donation. Your generosity enabled Pet Rescue by Judy to purchase a newer and higher capacity van for the transportation of rescued cats and dogs. Now, more of our animals are getting to their needed veterinarian appointments and adoption events. Additionally, Sport Subaru South went even further and provided a graphic wrap for our Pet Rescue by Judy van! Thank you Sport Subaru South for helping more cats and dogs find their forever home.
---
N.O.W. Matters More Foundation Charity Event - Luis D
Don Mealey Sport Subaru South was among the Title Partners for this year's tournament that benefits The N.O.W. Matters More Foundation. Since 2011 we have helped silence the stigma of addiction, help families navigate the best treatment options available for their needs, and provide scholarships to fill the gaps of insurance coverage. This years tournament was held at Reunion Resort & Golf. In addition to the monies raised we also received 5 full treatment scholarships. That alone is a value of over $120,000. This type of support is priceless to the recipients. The support we received from Don Mealey Sport Subaru South allows the foundation to continue helping families in the Central Florida area. Everyone knows someone that is currently suffering from the grasp of addiction. Visit nowmattersmore.org or call 833-NOW-MATTERS for more information.
---
Pet Adoption Center in our Showroom - Nate N
We created live-in adoption center in our dealership and partnered with a great organization, Safe and Sound Satos, out of Puerto Rico. They help us with dogs in need of a forever home. They live with us until they are adopted. Safe and Sound Satos are an animal rescue dedicated to rescuing, rehabilitating, and finding forever homes for the abused, neglected and forgotten street dogs of Puerto Rico that we lovingly call "satos". We will continue to support this great cause during the whole year because at Sport Subaru South we love pets!
---